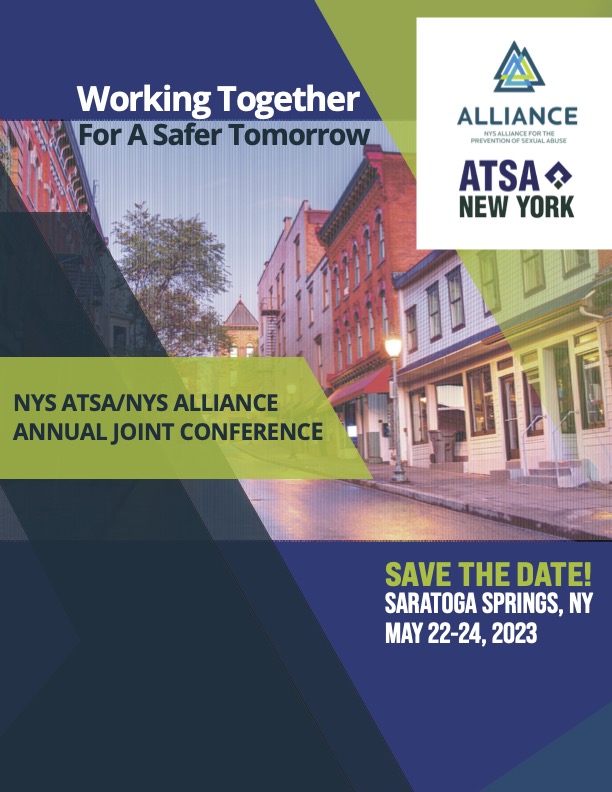 Dear Friends and Colleagues,
NYS ATSA and NYS Alliance are pleased to announce the annual call for papers for the 2023 Annual Joint Conference, Working Together For A Safer Tomorrow. Our 2023 conference will be held May 22 - 24 at the Holiday Inn Saratoga Springs in Saratoga Springs, NY.
The NYS ATSA/NYS Alliance Annual Joint Conference allows participants to examine creative collaborations, services involving shared leadership and resources, as well as prevention, supervision, and treatment programs that reflect emerging best practices. The conference provides access to leaders in the field of sex offense-specific treatment, supervision, assessment, management, prevention and victim advocacy. We are certain that all will benefit from this opportunity to share, learn and strategize with others dedicated to the shared mission to address and eliminate sexual abuse in New York State.
We are seeking presenters to reflect our conference theme and encourage submissions from victim advocates, medical professionals, researchers, lawyers (prosecutors and defense counsel), law enforcement (parole, probation, state police, federal and local police, etc.), CAC's, child protection agencies, and treatment providers. We encourage all individuals/groups working to reduce sexual violence to submit a presentation to ensure your important efforts and innovative approaches can be shared across the state.
Appropriate workshop topics include issues related to:
Adult, Youth, and Family Specific Interventions
Abuse Prevention Efforts and Projects
Innovative Models of Community Collaboration
Emerging Research
Community Supervision and Management Practices
Specialty Service Groups
Practical Applications of Empirical Research
Legal Issues and Court Practice
Criminal Justice Innovations to Prevent Sexual Violence
Legislation Related to Sex Offense Specific Management
We welcome both poster and lecture proposals. Please review the following information and submit a complete proposal. Incomplete submissions may not be considered.
Proposals may be sent to:
One PDF with all information is preferred for digital submissions
-or-
NYS ATSA/NYS Alliance Conference
Attn: Shelley Strait,
16 West State Street
P.O. Box 723, Sherburne, NY 13460